Buffalo-Style Pork Tenderloin Salad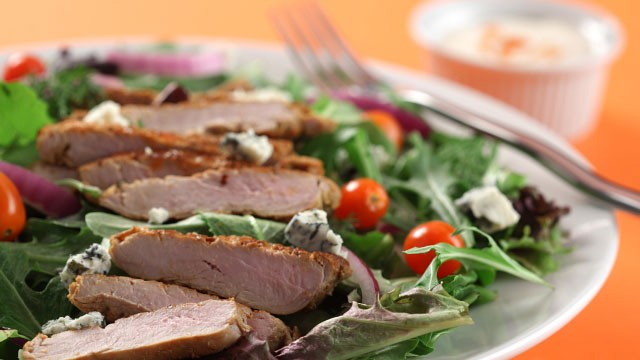 Buffalo-Style Pork Tenderloin Salad is a light, delicious recipe that can easily be served for lunch or dinner.
Ingredients
1 Earls pork tenderloin, well trimmed, about 12 oz
2 tablespoon canola oil
2 cloves garlic, minced
2 teaspoon soy sauce
2 tablespoon hot Asian chili sauce
1/2 tablespoon prepared mustard
1 tablespoon lemon juice
Salt and pepper, to taste
1 package spring mix salad greens
1/4 cup crumbled blue cheese (optional)
Bottled ranch dressing
Directions
Butterfly pork tenderloin by cutting horizontally, not quite through. Open and lay flat. In a small glass bowl, stir together oil, garlic, soy sauce, chili sauce, mustard, lemon juice, salt and pepper. Place pork and marinade in a zip lock bag. Seal bag and refrigerate 2 to 24 hours. Remove pork from marinade and pat dry. Discard marinade.
Cook pork in a non-stick skillet or grill pan, about 5-7 minutes per side. Remove pork to a cutting board or plate. Tent loosely with foil and let rest 5 minutes before slicing. Arrange pork slices on salad greens. Add salad ingredients of your choosing. Sprinkle with crumbled blue cheese and drizzle with your favourite style of ranch dressing.