Earls Pork Back Ribs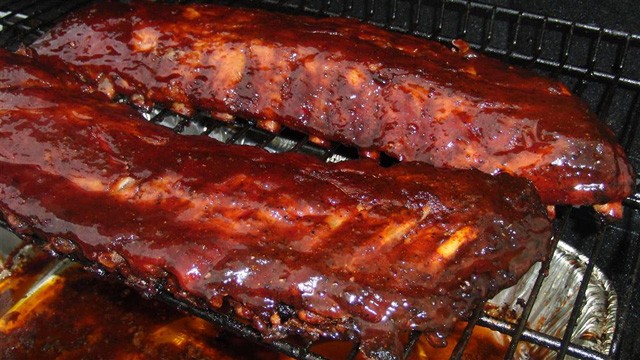 Earls Pork Back Ribs is a family favourite. Easy to prepare and loads of flavour, you can't go wrong with this one!
Ingredients
4 racks of Earls pork back ribs
Rib Rub:
2 tablespoon paprika
1 tablespoon brown sugar
2 teaspoon salt
2 teaspoon chili powder
2 teaspoon coarse black pepper
1 teaspoon ground cumin
1/4 teaspoon cayenne pepper
Barbecue Sauce:
1 1/2 cup ketchup
1 cup apple juice
2 tablespoon molasses
2 tablespoon Kahlua
1 1/2 tablespoon Worcestershire sauce
1 1/2 tablespoon apple cider vinegar
1 tablespoon brown sugar
1 tablespoon Dijon mustard
1 teaspoon chili powder
Directions
Lift and peel membrane from back of each rack of ribs. In a jar with a tight-fitting lid, mix all rub spices together and shake well until blended thoroughly. Rub generously over all surfaces of ribs; cover and refrigerate up to 12 hours. Roast ribs on a foil lined baking sheet at 350°F (180°C) for about 1 1/2 hours. Cover loosely with foil if ribs are browning too quickly. Meanwhile, in a small saucepan, combine barbecue sauce ingredients. Bring sauce to a boil. Reduce heat to low and simmer uncovered 30-40 minutes or until sauce thickens slightly; stirring occasionally.  Remove ribs from oven when done. Place ribs on pre-heated barbecue about 5-8 minutes per side, basting frequently with warm sauce.