Grilled Bacon Chops with Apricot Bourbon Glaze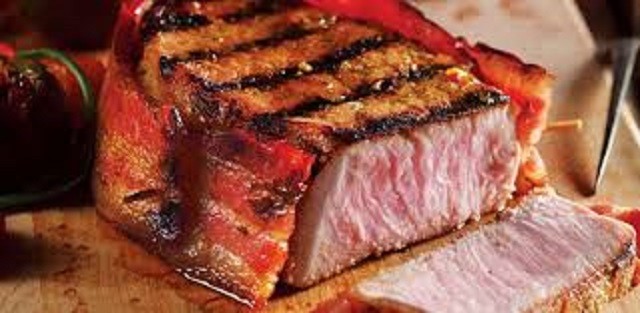 Salty, Smoky bacon partners perfectly with the essence of real maple syrup, warm spices and a sweet bourbon-infused glaze. These chops smack with flavour!
Ingredients
4 boneless pork chops from Earls Meat Market 1-1 1/2″ thick
Maple bacon flavoured seasoning, like Clubhouse (La Grille) Brand
4 Slices of bacon from Earls Meat Market, Partially cooked and cooled
1/2 cup of apricot jam
1/2 cup lightly packed dark brown sugar
3 Tbsp Dijon mustard
2 Tbsp bourbon
Directions
Shake seasoning onto both sides of chops. Wrap bacon slice around chop. Secure with wooden toothpick. Repeat with remaining chops and bacon. Set aside. In small saucepan, combine jam, brown sugar, mustard and bourbon. Bring to a boil. Reduce heat; simmer 10 minutes. Remove glaze from heat, reserving half the glaze. Preheat Barbecue on high. Reduce heat on one side to medium. On lightly oiled grill, sear chops over high heat side. Cook chops an additional 8-10 minutes, turning occasionally and brushing with glaze. Remove chops from grill when internal temperature reaches 155°F (68°C). Tent loosely with foil an allow chops to rest 5 minutes. Remove toothpicks. Serve chops with reserved glaze.