Lemon & Herb Rubbed Pork Tenderloin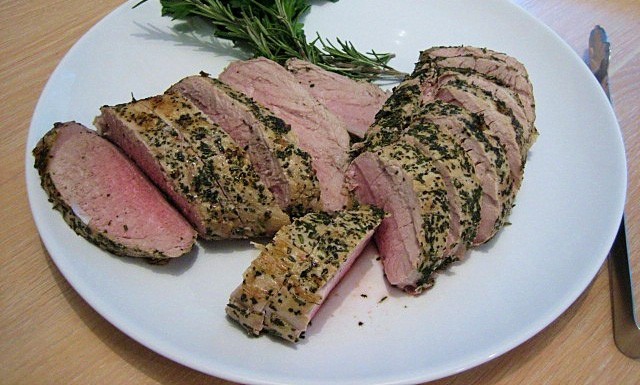 An easy think ahead meal!
Ingredients
Earls pork tenderloin, well trimmed, approximately 12oz.
2 cloves garlic, minced
1 tablespoon lemon zest
4 sprigs fresh parsley (finely chopped)
2 sprigs fresh thyme (finely chopped)
1 sprig fresh rosemary (finely chopped)
2 tablespoon canola oil
1/2 teaspoon sea salt
1/2 teaspoon red pepper flakes
Directions
Combine garlic, lemon zest, parsley, thyme, rosemary, oil, salt and chili pepper flakes in a small bowl. Generously rub mixture all over pork. Place pork in a resealable bag. Seal bag and refrigerate for up to 24 hours. Arrange pork on a foil-lined, rimmed baking sheet. Roast at 375ºF to an internal temperature of 155-160ºF, 20 to 25 minutes. Remove from oven; tent loosely with foil and let rest 5 minutes before slicing thickly.
Serve the pork slightly pink on the inside, accompanied with rice or pasta and your favorite fresh vegetables or a salad with citrus fruits and pine nuts.