Oven-Grilled Pork and Veggie Wraps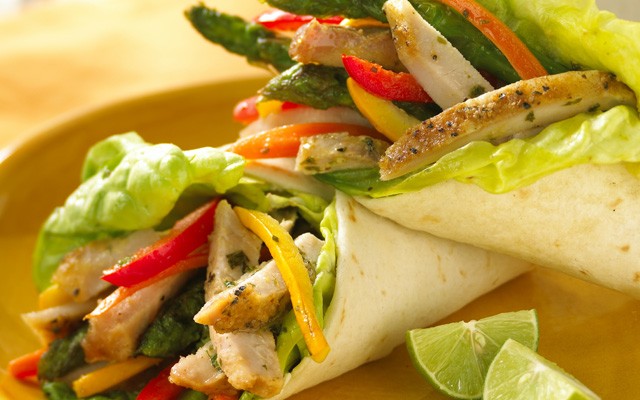 This tasty wrap provides three of the four Canada's Food Guide food groups - enjoy with a glass of milk or a yogurt on the side to get all four!
Ingredients
3 Earls boneless pork chops
1 green pepper, cut into strips
1 red or orange pepper, cut into strips
2 portobello mushrooms, cut into slices
1 large red onion, cut into wedges, separated
2 small zucchini, thickly sliced
2 tablespoon balsamic vinegar
1 tablespoon olive oil
1/2 teaspoon Italian seasoning
2 teaspoon crushed red pepper flakes
4 large (10 inch) whole-wheat tortillas
1/4 cup spreadable cream cheese
Directions
Coat a large baking pan with cooking spray. Trim any visible fat from pork chops. Arrange chops and vegetables in a single layer on baking pan. In a small bowl, combine vinegar, oil, Italian seasoning, and red pepper flakes. Brush mixture on both sides of pork. Broil 5 to 6 inches from heat for about 6 to 10 minutes, or until pork is browned and vegetables are crisp-tender. Meanwhile spread each tortilla with a layer of cream cheese. Remove pork from oven and slice into strips. Divide pork pieces and vegetables among tortillas; wrap tightly before serving.